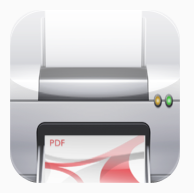 PDF Print Driver – iPad  View in App Store 


https://itunes.apple.com/us/app/pdf-print-driver-for-ipad/id585512317?ls=1&mt=8
=== Important Notice ===
Please download it by iTunes into your computer once you have bought it too, so you can use it in the feature, it need 2 iOS device to print for iOS 7, 8 Users.
How to print on iPad directly(For iOS 5, iOS 6 Users).
How to print from iPhone to iPad directly outside without an wifi router(For iOS 7, iOS 8 Users).
Youtube Video:  http://youtu.be/UvHVZ0JbcMg
Simply print email, email attachments, documents, web pages and more to PDF right from the iPad!
PDF Printer Driver lets you wirelessly print from the iPad. It can print directly to build-in PDF Printer.
Once installed, PDF Printer Driver appears in the AirPrint-enable Printers list on your device. This lets you print documents from Mail, Safari, Maps, iBooks and many other applications on your iPad that supports this function.
Using "Open In…" approach you can print files from many popular online storages: Dropbox, MobileMe iDisk, GoogleDocs. It just a matter of several taps to download your file via free Dropbox, iDisk or Google Docs application and send it to printer.
You can print Photos, Email Attachments, Web pages, iWork documents, Microsoft Office documents, Files from other applications, Documents on Dropbox, iDisk and GoogleDocs.
With WiFi Driver Sharing you can upload or download files from your computer to iPad , it uses HTTP & WebDAV protocol to share its data with other computers via Wi-Fi network.
Here are the list of supported document formats:
PDF, Word, Excel, Powerpoint, Pages, Numbers, Keynote, TXT, HTML, JPG, Safari webarchive.
Feel free to contact us If you have any suggestions, questions or issues at:
http://www.iPDFApps.com/contact
Screenshots: