Quick Print Connect for Mac
https://itunes.apple.com/us/app/quick-print-connect/id917159776?ls=1&mt=12
 Quick Print Connect(Mac) helps your iPhone and iPad to connect your printer attached on your mac. This lets you print documents from Quick Print app directly.
Quick Print Connect(Mac) lets you wirelessly print from the iPhone and iPad to PDF. It can print directly to many Wi-Fi Printer, and to any printer attached to your Mac via helper application installed on your computer.
Quick Print(iOS) eliminates the need to print through computer, download or install printer drive for printing, Quick Print supports many wifi, network and local printer supports more than 1000 printer models of many manufacturers (for example: HP, EPSON, Brother, Canon, Dell, Kodak, Lexmark, Xerox, Ricoh, Samsung, Sharp,…) including WiFi/Ethernet/USB printers and most of other OEM Brands with AirPrint-enable printers is 100% supported.
You can print Photos, Email Attachments, Web pages, iWork documents, Microsoft Office documents, Files from other applications, Documents on Dropbox, iDisk and GoogleDocs.
Here are the list of supported document formats by quick print:
PDF, Word, Excel, Powerpoint, Pages, Numbers, Keynote, TXT, HTML, JPG, Safari webarchive.
After simply setup, you can print from iOS native app directly, such as print photos from iPhone, print email from iPhone to you USB none airprint-enable printer.
Q: It see "No Airprint printers found" on my iPhone or iPad.
A: Please open Quick Print Connect>Settings, Find Print Formats:
Change it to "application/octet-stream,application/pdf,image/jpeg,image/png,image/urf", and "Finish" to save settings.
Turn OFF the Tun ON quick print connect. after 10 seconds, you will see you printers show up on you iPhone or iPad.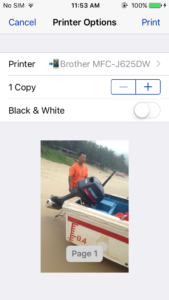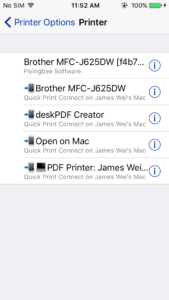 Screenshots: